San Francisco Proper Hotel: Historic Charm Meets Contemporary Design
San Francisco, CA, USA
San Francisco Proper Hotel, the city's newest boutique hospitality destination, seamlessly blends sophisticated historic architecture with memorable contemporary design. Developed by the renowned Hornberger + Worstell architectural studio, this project is a testament to their commitment to creating extraordinary spaces. Formerly known as The Renoir Hotel, the San Francisco Proper Hotel is a vital component of the mid-Market Street area, where the Theatre & Loft District intersects with the historic Civic Center.
One of the standout features of this project is the meticulously restored double-height historic lobby. With its grandeur and charm, it serves as a captivating entrance that transports guests to a bygone era. The attention to detail is evident in every aspect, from the intricate moldings to the elegant lighting fixtures. Stepping into this space is like stepping back in time while still enjoying the comforts of modern-day hospitality.
The newly appointed guestrooms span across six levels, offering a haven of luxury and comfort. Each room is thoughtfully designed, incorporating contemporary elements without compromising on the historical charm of the building. The result is a harmonious blend of old and new, where guests can relax and rejuvenate in style.
When it comes to dining options, the San Francisco Proper Hotel leaves no stone unturned. With two exceptional dining venues, a cozy café, and a rooftop bar/event space, guests can indulge in a variety of culinary experiences. The rooftop bar not only offers delectable food and drinks but also provides outdoor seating with panoramic views of the iconic San Francisco skyline. It's the perfect spot to savor a meal while taking in breathtaking vistas.
Since opening its doors in the fall of 2017, the San Francisco Proper Hotel has quickly become a popular gathering spot in this revitalized neighborhood. Its unique blend of historic charm and contemporary design has captivated locals and visitors alike, making it a sought-after destination for both accommodation and entertainment. This architectural gem stands as a testament to the city's rich history and its commitment to preserving its heritage while embracing modernity.
The San Francisco Proper Hotel project by Hornberger + Worstell is a testament to their architectural prowess. Through their vision and expertise, they have transformed the former Renoir Hotel into a boutique destination that seamlessly merges the past with the present. Whether you're a history enthusiast, a design aficionado, or simply seeking a remarkable hospitality experience, the San Francisco Proper Hotel is a must-visit. Immerse yourself in the enchanting atmosphere and discover a new standard of boutique luxury in the heart of the city.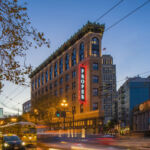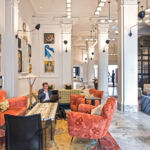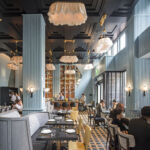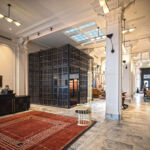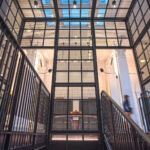 Project's associated companies