Captivating Beauty of Saint Martin de la Garrigue Wine House in Languedoc-Roussillon
34530 Montagnac, France
Located in the picturesque region of Languedoc-Roussillon in the south of France, the Saint Martin de la Garrigue Wine House stands as a testament to the timeless beauty and elegance of architectural design. This awe-inspiring project, brought to life by the renowned Ciel Rouge Creation architecture studio, seamlessly blends modernity and tradition to create a harmonious structure that pays homage to its natural surroundings.
The Wine House, nestled amidst rolling vineyards and breathtaking landscapes, serves as a sanctuary for wine enthusiasts and connoisseurs alike. The studio's innovative approach to design ensures that the building not only harmonizes with its environment but also amplifies the experience of wine tasting. The architects have meticulously crafted a space that offers a seamless flow between the interior and exterior, allowing visitors to immerse themselves in the enchanting vineyards that surround the property.
Drawing inspiration from the local architectural heritage, the Saint Martin de la Garrigue Wine House incorporates traditional elements such as stone accents and wooden beams, seamlessly blending them with contemporary materials and clean lines. The result is a structure that exudes sophistication and timelessness, while also embracing the modern demands of sustainability. The architects have employed energy-efficient technologies and materials, ensuring that the building leaves a minimal ecological footprint.
Upon entering the Wine House, guests are greeted by a sense of serenity and tranquility. The interior spaces are thoughtfully designed to create a seamless transition between the various functions of the building. The main tasting area, bathed in natural light, offers panoramic views of the vineyards. The architects have also incorporated private tasting rooms, a wine cellar, and a spacious terrace, providing visitors with a diverse range of experiences to indulge in.
In summary, the Saint Martin de la Garrigue Wine House is a masterful architectural project that embodies the spirit of its surroundings while pushing the boundaries of design. The Ciel Rouge Creation architecture studio has created an exceptional space that seamlessly blends tradition and modernity, offering visitors an unforgettable experience amidst the captivating beauty of the Languedoc-Roussillon region. This architectural marvel stands as a testament to the artistic vision and meticulous craftsmanship of its creators, leaving an indelible mark on the world of architecture.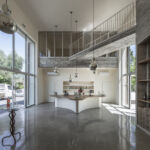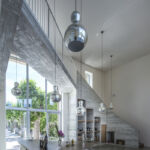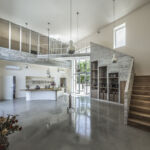 Project's associated companies