RB House: Harmonious Architecture in Valdivia's Wetlands
Valdivia Province, Los Ríos, Chile
Year: 2017
Location: Valdivia
Designed surface: 177.12 m²
Clients: Bibiana and Esteban
Design team: WINTERI Architects
Nestled amidst the breathtaking wetlands and Valdivian forest, the RB - House project by WINTERI | Architecture & Planning studio embraces the beauty of its surroundings. The design revolves around two key elements: the panoramic view and the maximization of sunlight. Taking inspiration from this majestic environment, a volume was conceptualized, projecting horizontally to create a front terrace that brings the house closer to the topographic jump on the slope.
The house seems to hang from the hill, prompting the architects to devise a bridge-like structure that anchors the RB - House project to the land. This bridge connects the rooms and living room of the second level to the serene forest at the rear. By concentrating the common spaces in the center of the house, privacy is provided to the double room, strategically positioned in a corner. The remaining rooms and living room are located on the second level, allowing for optimal use of the available space.
The materiality of the RB - House project is carefully chosen to highlight the natural beauty of wood. Wood is not only used for coatings and structure but also for the furniture, creating a cohesive and harmonious design. Different shades of wood are employed, each with its own unique texture that transforms throughout the day, creating contrasting effects under varying light conditions. By blending traditional carpentry techniques with contemporary design language, the RB - House project embodies a perfect balance between the old and the new, paying homage to its surroundings.
The RB - House project by WINTERI | Architecture & Planning studio is a testament to the architects' skill in seamlessly integrating a modern design into a natural landscape. The focus on capturing the view and harnessing sunlight is evident in every aspect of the house's design. With its careful material selection and attention to detail, the RB - House project represents a harmonious union between architecture and nature, providing its occupants with a tranquil and inspiring living space.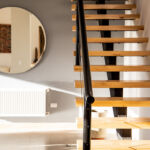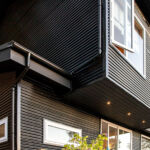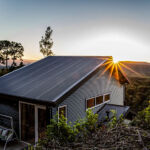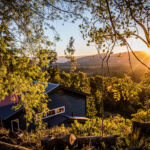 Project's associated companies