Transforming a 1970s Residence into a Modern Architectural Gem on Prospect Street
Providence, RI, USA
KITE Architects has once again showcased their remarkable ability to transform challenging structures into architectural gems with their latest renovation project on Prospect Street. The renovation exemplifies the studio's creative yet careful approach, resulting in a clean, modern, and elegant aesthetic that seamlessly blends into the historic College Hill neighborhood.
The original residence, dating back to the 1970s, was in desperate need of a makeover. Overgrown plantings along Prospect Street and Angell Street obscured views to and from the house, creating dark and gloomy spaces. One of the key challenges for KITE was to bring more light into these areas and revitalize the worn-out finishes.
Through their renovations, KITE successfully transformed the existing structure into a new residence that respects the quality and character of the surrounding neighborhood while maintaining the modern spirit of the original design. The exterior renovations included replacing the vertical wood siding with horizontal sapele wood siding, which harmonizes with the materials commonly found in the College Hill neighborhood. Additionally, the garage facing Olive Street was clad in stucco, echoing the stone textures of the existing perimeter foundation wall. The site design and interior renovations also focused on improving visibility and access to the front door, strategically located at the northwest corner of the house.
Inside the residence, KITE Architects took a similar approach by enhancing the existing floor plan and making subtle changes to optimize the space. The new open floor plan was designed to accommodate the family's art, book, and media collection, creating a harmonious atmosphere. A highlight of the interior design is the dramatic new stair, which not only adds visual interest but also organizes the space within the completely open plan.
The exceptional work done by KITE Architects on the Prospect Street project has not gone unnoticed. Their efforts were recognized with a Best Remodel award in the Marvin Architects Challenge in 2016 and a Bronze Design Award from Rhode Island Monthly in 2015. These accolades further underscore KITE's dedication to excellence and their ability to create stunning architectural transformations.
The Prospect Street project stands as a testament to KITE Architects' creative vision and meticulous attention to detail. By revitalizing the existing structure and carefully integrating it with the surrounding neighborhood, KITE has once again proven their ability to create beautiful and contextually appropriate designs. The end result is a residence that seamlessly blends modernity with the rich history of College Hill, leaving a lasting impression on all who encounter it.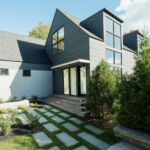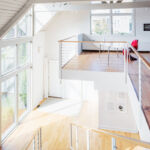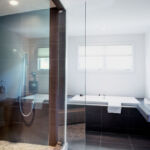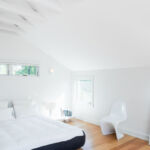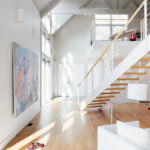 Project's associated companies