Creating Safe and Resilient Communities with PopCourts in Chicago
Chicago, IL, USA
Creating Safe and Resilient Communities in Chicago: The ARC Initiative
ARC, the Chicago Architectural Biennial initiative, is a network of local designers, city planners, and community organizers working towards making Chicago a safer, healthier, and economically resilient city for all. The initiative was formed in the summer of 2020, during the height of the pandemic and civil unrest, with the goal of helping communities on the city's south and west sides reopen during challenging times.
One of ARC's projects is POPCourts!, developed in collaboration with Mayor Lightfoot's INVEST South/West initiative. The project aims to create a sense of place and identity for the Austin community, which has limited access to public open space. The team transformed a vacant lot at the corner of W. Chicago and N. Lockwood Avenues into a place for activity, gathering, and commerce.
The project includes three zones, or "Courts," each serving different community functions. The basketball court doubles as a community plaza, while the gravel drive will host food trucks, farmers' markets, and other seasonal vendors. The shaded lawn functions as a food court with casual seating. Artwork brings the project together, with local artists painting murals on adjacent building walls depicting Malcolm X, Harriet Tubman, and Mahalia Jackson.
The groundbreaking for POPCourts! took place in October 2020, generating excitement and anticipation for the opening. The site has already sparked conversation and investigation by local groups of students interested in urban design, public art, and community planning. The project was officially unveiled to the public on June 17th, 2021, and serves as a safe space for gathering, public discourse, and a place of identity along Chicago Avenue that can be programmed by residents and evolve.
ARC's work continues in 2021, and by the end of the year, five initiatives will be complete, all focused on an equitable reopening of Chicago. POPCourts! is a shining example of the transformative power of community-led projects that address the needs of Chicago's diverse neighborhoods. With ARC's commitment to creating safe and resilient communities, Chicagoans can look forward to a more equitable and vibrant city for all.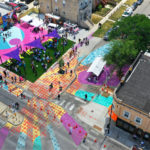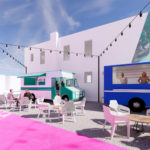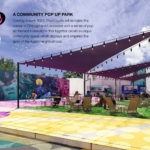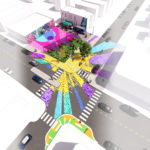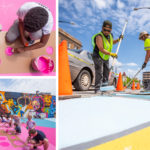 Project's associated companies