Revolutionizing the Workplace: Pirch Headquarters Transforms Corporate Space
San Diego, CA, USA
Pirch, an emerging lifestyle retailer, is revolutionizing the customer experience in the appliance and decorative fixture market. Their company manifesto, "Live Joyfully," serves as the foundation for their strong store concept. In an effort to extend this experience to their corporate headquarters, Pirch decided to revamp their existing nondescript space, which was located at the back of their oldest store.
To ensure that the new headquarters would align with their retail brand and cater to the needs of their staff, Pirch's design team embarked on an extensive interview process. They listened to every staff member's requests, gathering valuable insights on how the new HQ could support their desired way of working and provide desirable amenities.
Upon entering the space, employees and visitors are welcomed by a wood-clad portal that leads to the Café Bliss. This area serves as both a reception and meeting space for the entire staff. Inspired by the way Pirch greets and welcomes their customers, the café encourages individuals to relax, enjoy a beverage, and even work while waiting.
Beyond the café, the headquarters boasts meeting rooms and a main gathering area. This space offers various seating options, including booths and lounge furniture, seamlessly connected to an outdoor garden. With retractable doors, the indoor/outdoor room creates a large communal space, fostering interaction and a sense of community amongst employees from all corners of the building.
Recognizing the diverse work styles and personalities of their team, Pirch's headquarters provides a multitude of spaces that cater to collaboration, concentration, work, and socialization. Additionally, throughout the space, graphics display the company's 23 manifesto messages, immersing both staff and visitors in Pirch's vision and culture.
Pirch's transformation of their corporate headquarters showcases their commitment to creating an exceptional experience for both customers and employees. By incorporating their retail brand and listening to their staff's needs, the new HQ exemplifies the company's mantra of "Live Joyfully" in every aspect of its design and functionality.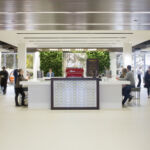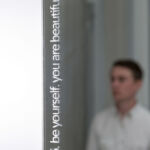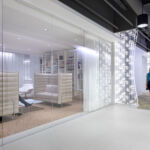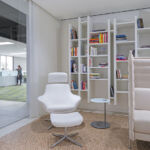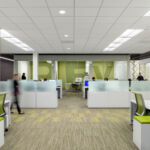 Project's associated companies