Enchanting Renaissance-inspired Architecture at Philosophy Boutique NY
New York, NY, USA
The Philosophy Boutique in New York, a brainchild of Alberta Ferretti, is a visionary concept that draws inspiration from the illuminated Renaissance theatre. As you step inside, the three-storey glass storefront immediately captures your attention, offering a glimpse of the magnificent stage that lies within. The sloped glass floor, gently cascading with water and illuminated from below, sets the tone for an enchanting experience.
At the heart of the boutique, center stage rear, a captivating zig-zag motif staircase takes center stage. This architectural masterpiece is cleverly framed between two layers of raw fabric and silhouetted in front of a backlit sandblasted glass plane. It becomes the focal point of the entire space, commanding attention and inviting exploration.
The Philosophy Boutique is bathed in natural light, thanks to the presence of two expansive glass roofs – one at the front and another at the back. These transparent ceilings allow daylight to stream in, creating a harmonious blend of the outside world and the meticulously designed interior. The four-storey space, characterized by its minimalistic clarity, is contrasted by the soft organic shapes that inhabit it.
As you navigate through the boutique, you will encounter various intriguing elements that add depth and character to the space. A cash wrap in the shape of a foetus, delicately crafted to mimic new life, greets you with its unique charm. On the second floor, an ornamental niche takes the shape of a Calla Lilly, adding a touch of elegance and beauty. And a rudder-shaped rotating mirror not only serves a functional purpose but also adds a playful element to the overall design.
The Philosophy Boutique is a testament to the shared passion for craft, translucency, and layering between Alberta Ferretti's collection and David Ling's architecture. The richly textured setting, with its cement floors and hand burnished mother of pearl colored walls, provides the perfect backdrop for Ferretti's Philosophy Collection. It is a space where fashion meets art, and where the philosophy of design comes to life.
In summary, the Philosophy Boutique in New York, envisioned by Alberta Ferretti and brought to life by David Ling Architect, is a mesmerizing fusion of Renaissance inspiration and contemporary design. Its glass storefront, illuminated floor, and captivating staircase form the centerpiece of this architectural masterpiece. With its unique shapes, natural light, and rich textures, the boutique is a testament to the shared vision of Ferretti and Ling. It is a place where fashion and philosophy intertwine, leaving visitors with an unforgettable experience.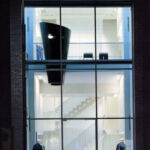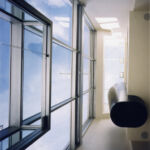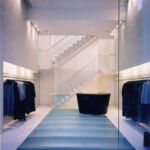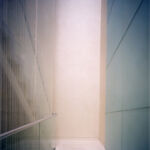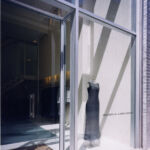 Project's associated companies