History Meets Modernity: Past Present House Renovation in Seattle's Capitol Hill
Seattle, WA, USA
Chadbourne + Doss Architects, an architectural studio, has recently completed a remarkable renovation project in Seattle's Capitol Hill neighborhood. This project involved transforming a formal and introverted 4,800 square foot brick French Norman house into a modern and connected space that embraces its surroundings. The new owners, who have a deep appreciation for historic woodwork and craftsmanship, wanted to preserve the home's history while creating a seamless connection between indoor and outdoor spaces.
Inspired by the concept of a "modern conservatory," the architects designed an addition at the back of the house. This addition encompasses a new Kitchen, Family Room, Master Bedroom, and covered Roof Deck. It serves as a bridge between the interior and the expansive back yard. Opening up to a beautifully crafted patio space, the addition seamlessly integrates with the landscape and provides new seating areas, a bathhouse, a guesthouse converted from a playhouse, a potting shed/party bar, and a covered outdoor dining pavilion.
Throughout the entire remodeling process, the architects aimed to create a study in contrasts. The existing parts of the house celebrate its historic charm, featuring warm woodwork, plaster arches, and cozy rooms. To complement these elements, new finishes such as stone and blackened steel accents were introduced. In contrast, the new addition embodies lightness and modernity, characterized by straight lines, smooth materials, and minimal trim. Large glass doors that open up to the outdoors were incorporated, along with flush walnut and blackened steel casework. These contrasting elements provide a range of spatial and textural experiences, catering to different moods and activities.
The owners of this house have a rich cultural background, having lived in both the United States and Shanghai. As avid collectors of contemporary Chinese art and Asian artifacts, they desired a space that would showcase their collection. Additionally, the house serves as a beautiful and modern setting for hosting gatherings with friends from around the world.
Chadbourne + Doss Architects have truly transformed this house into a stunning blend of history and modernity. The renovation has successfully connected indoor and outdoor spaces, creating a harmonious flow between the old and the new. With its thoughtful design and attention to detail, this Past Present House project stands as a testament to the architects' creativity and the owners' vision.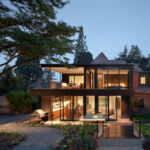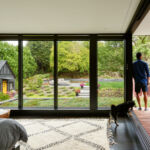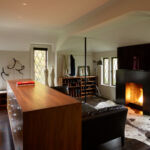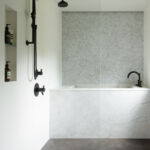 Project's associated companies