Palisades View Home: Signum Architecture's Stunning Contemporary Design
Calistoga, CA 94515, USA
Signum Architecture Creates Palisades View Home
Signum Architecture has recently completed another stunning project - Palisades View Home. The clients, a retired couple who moved to the wine country from Connecticut, were referred to the studio by their neighbors. The original Craftsman-style home on the site was destroyed in the 2017 fires, and the clients wanted a more contemporary design that would take advantage of the spectacular views across the valley.
Embracing the Spectacular Views
After studying the site, Signum Architecture determined that the house should be sited further up the hillside to capture the broad expansive view of the Palisades to the east. The elevation now feels just right - overlooking the site, but still feeling intimately connected to the land. The house not only captures the views but also overlooks the couple's old growth Zinfandel vineyards, which they farm and bottle into their own wine label, Wine Not?
Functional and Elegant Design
The clients wanted a departure from their traditional cottage in Connecticut, and Signum Architecture delivered with a contemporary design that embraced the views and the valley's temperate climate. The house is laid out with two wings - one containing the open living space, master bedroom and bath, and office, the other housing numerous bedrooms for visitors - enabling it to function equally well for two or for a crowd.
Indoor-Outdoor Lifestyle
The central living space is designed for entertaining, with a wall of glass that opens to fully embrace the expansive terrace. The massing of the house shades the terrace from the intense heat of the afternoon sun streaming from the west. Clerestory windows on the western facade usher air and light into the living areas. The terrace overlooks a massive planter and an infinity pool below, which run the length of the rear facade. Multiple levels carve out private spaces: a half-level above the living area a private office opens to a large private terrace, while a half level below lie the master bedroom and bath.
Signum Architecture has once again delivered a stunning home that seamlessly integrates indoor and outdoor living with breathtaking views. The Palisades View Home is a testament to the studio's ability to create functional and elegant designs that meet the unique needs of their clients.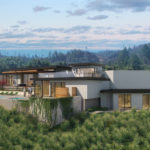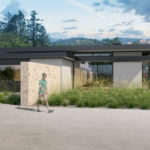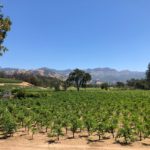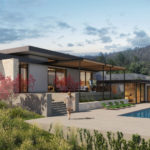 Project's associated companies