Transforming Home to Guest Haven: OH HOUSE Project by k-da
Jeffersonville, NY 12748, USA
Transforming a Home into a Guest Haven: The OH HOUSE Project by k-da
The OH HOUSE project was a unique challenge for k-da architectural studio. The client wanted to convert the lower half of his home from a cluttered storage area into a guest-friendly space that could accommodate various activities. The initial plan included an indoor/outdoor area with bocci and seating, but the budget constraints required the team to focus on the house itself.
Maximizing Natural Light: The Axis Solution
The k-da team wanted to make the most of the natural light that the lower level could receive. To achieve this, they created an axis that aligned with the large glazed double doors. The space was then divided along this axis, starting with a functional mudroom and wood storage area. The next section was designed as a transitional zone that led to the guest bedroom and bathroom.
Creating a Playful Zone: The Pool Table Area
As one walks down further, they will see an area dedicated to a pool table, providing a playful zone for guests to enjoy. This space also provides access to the house storage room, ensuring that everything is kept in order. The end piece of the program is the sitting room, which is framed as its own special area. This nook is a comfortable place to curl up with a book or watch a movie, serving as an ideal spot for guests to relax and unwind.
The Result: A Guest Haven
The OH HOUSE project was a success, and the client was pleased with the transformation of his home's lower level. The k-da team managed to create a guest haven that is perfect for hosting company, watching movies, playing pool, and entertaining guests. The space has been efficiently divided into sections, each serving its own purpose, and the natural light has been maximized to provide a bright and welcoming atmosphere.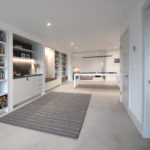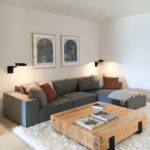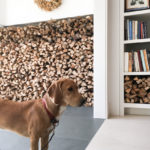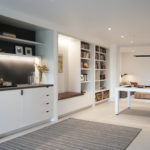 Project's associated companies