Harmonious Blend of Innovation and Functionality: Oficinas GEPP
Santa Fe, Mexico City, CDMX, Mexico
Title: Oficinas GEPP - A Harmonious Blend of Innovation and Functionality
Introduction:
Oficinas GEPP, which translates to GEPP Offices, is a remarkable architectural project envisioned and brought to life by the esteemed SPS+Sinapsis architecture studio. Located in an urban setting, these offices serve as a prime example of the studio's commitment to creating harmonious spaces that seamlessly integrate innovation with functionality. With a keen focus on optimizing productivity and enhancing the work environment, the architects have designed a structure that combines cutting-edge design elements with sustainable practices.
Paragraph 1:
The Oficinas GEPP project stands as a testament to SPS+Sinapsis' expertise in creating architectural marvels that meet the evolving needs of modern businesses. The office complex boasts a sleek and contemporary design, featuring clean lines, large windows, and a meticulous attention to detail. This aesthetic appeal not only makes a striking architectural statement but also serves a practical purpose by allowing an abundance of natural light to flood the interior spaces, promoting a sense of openness and well-being among the occupants.
Paragraph 2:
One of the key highlights of the Oficinas GEPP project is its emphasis on sustainability. SPS+Sinapsis has seamlessly integrated eco-friendly features, ensuring a minimal carbon footprint and a healthy work environment. The building incorporates energy-efficient systems, such as solar panels and rainwater harvesting, to reduce energy consumption and water wastage. Additionally, the architects have utilized sustainable materials throughout the construction process, enhancing the overall eco-consciousness of the design. This commitment to sustainability not only aligns with contemporary architectural trends but also showcases the studio's dedication to responsible and environmentally conscious design practices.
Paragraph 3:
Functionality and practicality have been at the forefront of the design philosophy for Oficinas GEPP. The architects have paid meticulous attention to the spatial arrangement, ensuring optimal workflow and ease of movement within the office complex. The layout provides designated areas for collaboration and privacy, offering employees a variety of spaces to work, brainstorm, and recharge. The integration of state-of-the-art technology and smart design solutions further enhances the efficiency and productivity of the workspace, allowing seamless connectivity and adaptability to the ever-changing needs of the modern workforce.
Paragraph 4:
In conclusion, the Oficinas GEPP project by SPS+Sinapsis architecture studio encapsulates the essence of contemporary architectural design. Through its striking aesthetic appeal, sustainable features, and functional layout, the office complex sets a new benchmark for modern workplaces. The seamless integration of innovative design elements and eco-friendly practices showcases the studio's commitment to creating spaces that not only inspire creativity but also prioritize the well-being of its occupants. Oficinas GEPP stands as a testament to the studio's ability to create architectural marvels that are both visually captivating and functionally efficient, setting it apart as a pioneer in the field.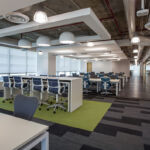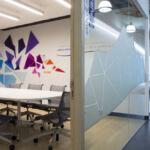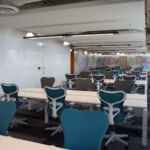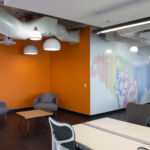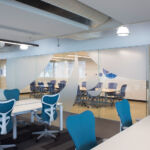 Project's associated companies