Revitalizing Coney Island: Ocean Wonders: Sharks!
Brooklyn, NY, USA
ESKW/A, the renowned architectural firm, is collaborating with The Portico Group in Seattle for the development of the new shark exhibit at the esteemed New York Aquarium on Coney Island. As the Associate Architect and Architect of Record for the base building, ESKW/A is playing a crucial role in the revitalization plan for this historic seaside neighborhood. Spanning approximately 58,000 square feet, the new building aims to house over 115 diverse marine species.
One of the notable challenges faced by the ESKW/A team is the implementation of artist Ned Kahn's visionary concept, the 'shimmer wall.' Comprising more than 40,000 free-swinging aluminum flappers, this mesmerizing installation envelops the entire building on a tension cable structure, gently swaying with the breeze. The execution of this unique feature requires meticulous attention to detail and engineering expertise.
Another remarkable aspect of the project is the inclusion of a gracefully curving ramp along the building's perimeter. This ramp provides visitors with a scenic route that leads to an observation point on the roof, offering an unprecedented view of the magnificent Atlantic Ocean, previously unavailable to aquarium-goers. This innovative design element enhances the overall visitor experience and adds a touch of architectural brilliance to the exhibit.
Coney Island, a neighborhood profoundly affected by the devastating Hurricane Sandy in 2012, is currently undergoing a significant rebuilding process. As part of the restoration efforts for the New York Aquarium, ESKW/A played an integral role in assessing the damage caused by the hurricane. This crucial analysis paved the way for the restoration of the aquarium, ensuring that it can continue to delight and educate visitors for years to come.
ESKW/A's involvement in the Ocean Wonders: Sharks! project at the New York Aquarium demonstrates their commitment to both architectural excellence and community revitalization. By collaborating with The Portico Group and incorporating Ned Kahn's artistic vision, ESKW/A is contributing to the transformation of Coney Island into a thriving, vibrant destination. With their expertise in overcoming challenges and their passion for sustainable architecture, ESKW/A is poised to create an awe-inspiring space that will captivate visitors and foster a deeper appreciation for marine life.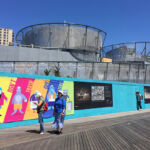 Project's associated companies