Transformed: Historic Manhattan Townhouse Renovation
Manhattan, New York, NY, USA
Located in the Stuyvesant Park neighborhood of Manhattan, there stands a historic townhouse that was built back in 1851. Recently, the owners of this remarkable building embarked on an ambitious project to split it into two separate parts. Our team at The Fractal Group architectural studio had the privilege of designing the top floors of this magnificent structure. To ensure the division was done seamlessly, the renowned lighting designer, Ingo Maurer, was also involved in the process.
In order to create two equal parts, the entire townhouse had to undergo a complete renovation. This included the installation of a new steel structure, as well as new electrical, plumbing, and HVAC systems. Additionally, a 620 square foot penthouse was added on top of the existing three-story building. This penthouse now serves as the upper apartment, comprising three floors that house a kitchen, dining and living room, two bedrooms, an office, a family room, a bathroom, a master bedroom, a master bathroom, and three spacious terraces.
One of the most striking features of this renovated townhouse is the updated rear façade, which now boasts a large glass façade. This stunning glass paneling is embedded with LEDs that illuminate the façade from within, creating a mesmerizing glow that enchants passersby during the night. The result is a mystic aura that adds an ethereal touch to the entire building, leaving an indelible impression on all who behold it.
To enhance the overall aesthetic appeal and functionality of the townhouse, various sophisticated lighting designs were incorporated into the project. One notable example is the inclusion of a unique lighting fixture called the "Schlitz," which elegantly pokes out of the ceiling in the kitchen. This distinctive feature not only provides ample lighting but also adds a touch of artistic intrigue to the space.
As a testament to the success of this townhouse renovation project, renowned photographer Paul Warchol was commissioned to capture the final result. His photographs beautifully showcase the impeccable craftsmanship and attention to detail that went into transforming this historic building into a modern marvel that seamlessly blends the old with the new.
In summary, the renovation of this 1851 townhouse in the Stuyvesant Park neighborhood of Manhattan has been a noteworthy undertaking. With the expertise of The Fractal Group architectural studio and the artistic vision of Ingo Maurer, a remarkable transformation has taken place. The division of the building into two equal parts, the addition of a penthouse, and the incorporation of sophisticated lighting designs have elevated the townhouse to new heights. Its glass façade, illuminated by embedded LEDs, creates a captivating ambiance, while unique lighting fixtures like the "Schlitz" add a touch of artistic flair. This project stands as a testament to the power of meticulous renovation and creative design in breathing new life into historic structures.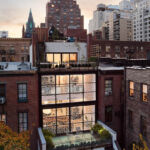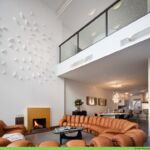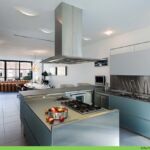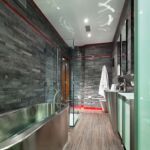 Project's associated companies