NEW AARCH: A Sustainable and Innovative Architecture School
Aarhus, Denmark
Introducing the New Aarhus School of Architecture
The Aarhus School of Architecture, located on a former railyard in Denmark, has recently undergone a transformation. The new building was designed to be a laboratory for learning and exploring architecture, both inside and out. The project was led by the Danish Building and Property Agency, with DEPT as the lead consultant, Tri-Consult as the engineer, and A. Enggaard A/S as the contractor. The building was completed in 2021, with a budget of 287 million Danish krone.
Designing for Functionality and Robustness
The design of the new Aarhus School of Architecture prioritizes functionality and robustness, responding to the school's need for practical spaces that can facilitate experimentation with new and contemporary ways of architecture education. The building is intentionally simple, with a narrow material palette that reduces construction resources and maximizes spatial flexibility. Concrete was chosen as the optimal solution for large-scale and resilient spaces, with the team working closely with the manufacturer to minimize material use and maximize recycled content. The building also features upcycled wood floors and library structures made from recycled materials, showcasing a commitment to sustainability.
Blending Interior and Exterior Spaces
The new Aarhus School of Architecture brings together ten former locations into one building, with a dream of creating a robust structure that serves as a living laboratory of architecture. The building design presents itself like an anti-icon, an empty canvas made for ideas, creativity, and learning. The intentional simplicity of the design allows for interior and exterior spaces to blend, not only through literal transparency but also by questioning what is the school's space and what is the city's. This means that both the surrounding urban environment and the curricular activities will shape the building in the future, encouraging communities and synergies.
A Model for Cross-Disciplinary Collaboration
The new Aarhus School of Architecture was designed through co-creation in an innovative partnering model, showcasing an alternative direction for cross-disciplinary collaboration in the building industry. The design was based on extensive user and neighborhood involvement and eliminated internal hierarchies in the project organization to promote a transparent development process and a strong ownership at all levels of the partnership. The completed building is the school's best showcase, allowing activities to become visible to the public, while the spatial organization and interior transparency make studio activities visible and present to all the students.
In conclusion, the new Aarhus School of Architecture is a beautiful testament to the power of innovative design and cross-disciplinary collaboration. The intentional simplicity of the building's design prioritizes functionality, robustness, and sustainability, while the blending of interior and exterior spaces encourages communities and synergies. As a living laboratory of architecture, the completed building allows for experimentation with new and contemporary ways of architecture education, making it one of the best architecture schools in Europe.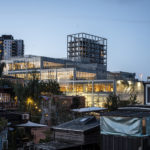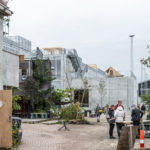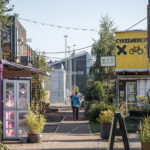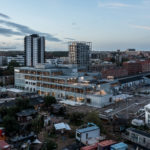 Project's associated companies