Revolutionizing Agricultural & Scientific Education: Murray State College's New Agriculture/Science Building
Tishomingo, OK 73460, USA
Murray State College has unveiled plans for a new Agriculture/Science Building, designed by the renowned architectural studio, Corner Greer & Associates (CGA). The proposed freestanding facility is set to span approximately 24,000 square feet on the ground level and 20,000 square feet on the upper level. With a focus on providing state-of-the-art academic spaces, the building will cater to the needs of students and faculty members alike.
The ground level of the Agriculture/Science Building will feature a range of facilities, including multiple teaching labs, classrooms, offices, and a 200-seat lecture hall. This comprehensive setup will ensure that students have access to the resources they need to excel in their studies. Additionally, the upper level will house spacious laboratories dedicated to Chemistry, Microbiology, and Biology, as well as standard classrooms. The building's floor plan has also been thoughtfully designed to incorporate flexible areas outside the classrooms. These glassed-in "think tanks" will serve as collaborative spaces for students to engage with professors and fellow classmates.
One of the standout features of the Agriculture/Science Building will be its open two-level entry space, which will be illuminated by an insulated skylight arch. This design element will allow filtered natural light to flood the interior, creating a bright and welcoming ambiance throughout the building. As students and visitors navigate through the facility, they will have the opportunity to enjoy views of wildlife and student displays within glass enclosures, adding an element of natural beauty to the learning environment.
Murray State College's new Agriculture/Science Building, designed by CGA, is poised to revolutionize the academic experience for students pursuing agricultural and scientific disciplines. The facility's cutting-edge facilities, including well-equipped labs and versatile classroom spaces, will provide an optimal learning environment. By combining functionality with aesthetics, the building will inspire collaboration and innovation. With the project's development underway, Murray State College is poised to reinforce its commitment to excellence in education and research in the agricultural and scientific fields.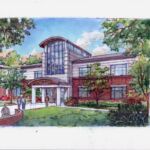 Project's associated companies