Timeless Beauty Meets Modern Luxury: Mission Style Hacienda
Cave Creek, AZ 85331, USA
Stout Design Architecture Studio proudly presents the magnificent architectural project, the Mission Style Hacienda. Inspired by the timeless beauty and rich heritage of traditional Spanish colonial architecture, this project embodies the essence of a grand hacienda, seamlessly blending old-world charm with modern functionality.
The Mission Style Hacienda is a testament to the studio's commitment to creating spaces that exude elegance, sophistication, and a sense of place. Situated in a picturesque location, this architectural marvel is designed to harmonize with its surroundings, embracing the natural beauty of the landscape while providing a haven of tranquility and luxury for its residents.
Drawing inspiration from the iconic mission-style architecture prevalent in the southwestern United States and Mexico, the design elements incorporated in this project are truly awe-inspiring. The exterior façade showcases stunning stucco walls adorned with intricate detailing, while the red clay tile roof adds a touch of authenticity and character. The use of natural materials such as wood, stone, and wrought iron further enhances the timeless appeal of this hacienda.
As one steps inside the Mission Style Hacienda, they are greeted by a breathtaking courtyard that serves as the heart of the home. This open-air oasis features a serene fountain, lush greenery, and a charming outdoor seating area, creating a space where residents can unwind and reconnect with nature. The courtyard seamlessly connects to the interior living spaces, blurring the boundaries between indoors and outdoors and providing an inviting ambiance for gatherings and celebrations.
The interior of the Mission Style Hacienda is a testament to the studio's meticulous attention to detail and commitment to creating spaces that are as functional as they are beautiful. The layout is designed to optimize the flow of natural light, with large windows strategically placed to offer breathtaking views of the surrounding landscape. The use of warm, earthy tones, exposed wooden beams, and ornate tile work further enhances the hacienda's unique charm and allure.
In summary, the Mission Style Hacienda by Stout Design Architecture Studio is a remarkable architectural project that pays homage to the timeless beauty of Spanish colonial architecture. With its harmonious integration into the natural landscape, meticulous attention to detail, and seamless blending of old-world charm and modern elegance, this hacienda is a true masterpiece. This architectural gem promises to provide its residents with an extraordinary living experience, where they can immerse themselves in the tranquility and beauty of their surroundings while enjoying the comfort and luxury of a meticulously designed home.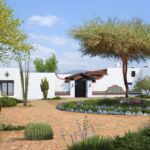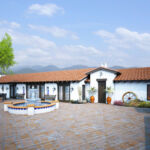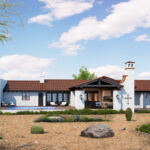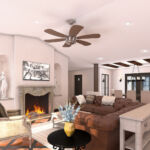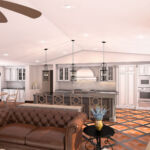 Project's associated companies