Revolutionizing Healthcare: Meritus Medical Center's Innovative Infectious Containment Unit
Hagerstown, MD, USA
Located on the campus of Meritus Medical Center in Hagerstown, MD, the new Regional Infectious Containment Unit signifies a groundbreaking model for healthcare delivery and marks a new era of healthcare for the surrounding communities in Western Maryland. Developed by the architectural firm Matthei & Colin Associates, this 12,500 SF, 20-bed unit was designed and constructed in just 120 days. It incorporates all the necessary care and documentation practices to support the community during the current COVID-19 public health pandemic, as well as future events of a similar nature.
The unit, situated adjacent to existing outpatient facilities, operates on a negative-pressure and ventilator-capable environment, effectively increasing the overall bed capacity while minimizing exposure of infected patients to the hospital's general population. The new addition features two operating modes: "normal," where the rooms function as typical medical/surgical beds, and "infectious," where all 20 rooms operate under negative pressure to cater specifically to infected patients and ensure clinical safety.
To overcome the project's time-frame challenges, Matthei & Colin Associates collaborated with various industry specialists including Gilbane Building Company, Leach Wallace Associates, GRAEF-USA, Frederick Seibert & Associates, and Washington County Building Authorities. This unified effort allowed for the successful execution of the project, leveraging the familiarity of the design team with the existing building design, systems layout, and construction means.
Employing a prefabrication approach for building systems and components not only aided in maintaining social distancing but also expedited the construction schedule. The local building code authorities played a crucial role in the design and planning process, contributing to the project's success within the aggressive time-frame. Continuous communication and daily virtual meetings among all team members, from design to construction, proved critical in achieving overall success.
On August 10th, 2020, almost exactly four months after the initial feasibility call, the unit admitted its first patients. Matthei & Colin Associates, a trusted partner of Meritus Health since 2000, remains dedicated to supporting their mission of improving the health status of the region by providing comprehensive health services to patients and families. Through this project, they have demonstrated their commitment to innovation and the well-being of the community they serve.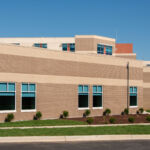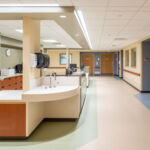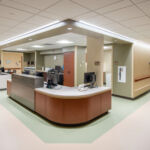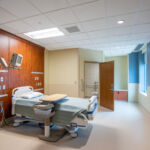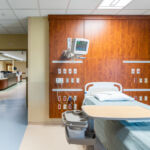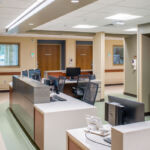 Project's associated companies