Mercy Virtual Care Center: A Nature-Inspired Approach to Healthcare
Chesterfield, MO, USA
Mercy Virtual Care Center: A New Approach to Healthcare
The Mercy Virtual Care Center is a 125,000-square-foot facility that is transforming the way healthcare is delivered. The facility operates 24/7, incorporating telemedicine, care management, research analytics, and business infrastructure to support and advance virtual care to both Mercy and non-affiliated patients. This new approach involves competing healthcare providers working collaboratively to cure the nation's broken healthcare system. It is the first building of the 40-acre integrated Mercy Campus that reunites and facilitates learning, ministry, telemedicine, and clinical care.
A Building That Blends with Nature
The Virtual Care Center was carefully positioned to save existing, mature trees that provide natural shading to the building's south and west exposures, while also offering an amazing indoor/outdoor experience for the building's occupants. The building engages the site at the ground plane in a weightless manner and allows nature's wonder and its daylight to visually enter the building so that a symbiosis between man and nature will occur. It is a building that blends with nature and creates an environment that promotes healing.
Flexible and Adaptable Design
The building's design is optimized for flexibility and adaptability. The rectangular 30,000-square-foot floor plates are designed to accommodate changing programs and technologies of the future. Each floor is strongly expressed as horizontal bands that represent the stability and strength of Mercy's platform. Floor-to-ceiling glass spans between each horizontal band and represents the transparency of the Mercy mission and the accessibility to their services. The glass strategically undulates to create entry locations and balconies on upper floors. These curved forms represent the flexibility of Mercy's evolving response to the future of healthcare service.
Creating a Productive and Creative Environment
The balconies on each floor allow the building occupants to easily step outside from their indoor workplace to refresh and to feel the impact of nature on their spirit, emotions, creativity, and productivity. The building's design creates an environment that promotes healing and encourages creative and productive work. The Mercy Virtual Care Center is the beginning of a transformational approach to healthcare that is changing the way we think about healthcare delivery. It is a facility that blends with nature and creates an environment that promotes healing, creativity, and productivity.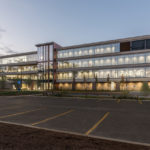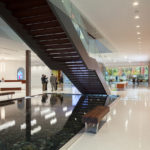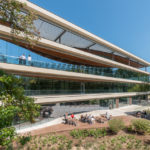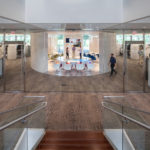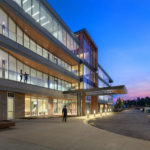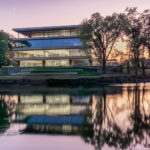 Project's associated companies