Melodia Musik Headquarters: A Seamless Blend of Technology and Art
South Jakarta, South Jakarta City, Jakarta, Indonesia
Melodia Musik, an audio visual company specializing in technology and sound, has unveiled its stunning six-story headquarters designed by the renowned architectural studio, W Office. The building's facade is a true testament to the magnifying effect and lightweight quality of aluminum, as it is clad with black-anodized folded aluminum panels coated with PE for anti-scratch, dust, and resistance. The intricate design of the facade, inspired by the audio frequency of an oscilloscope and the analog technology of audio equipment, showcases the company's commitment to precision and the seamless blend of technology and art.
The interior space of the Melodia Musik headquarters offers a striking contrast and equilibrium to the metallic dark facade. Designed with a light palette, soft forms, and an open space quality, the interior provides a welcoming and modern atmosphere. This deliberate contrast between the facade and interior design plays a crucial role in shaping the overall experience and narrative of the company. It serves as a reflection of Melodia Musik's vision and values, creating a cohesive and immersive environment for employees and visitors alike.
The six-story building boasts a variety of programming on each floor, catering to the diverse needs of the company. The ground level features a lobby reception area with a coffee shop and flexible space for company events. The second and third floors house retail shops and a service center, while the fourth floor is dedicated to the Music School. The fifth and sixth levels are home to offices and training facilities, providing a comprehensive space for the company's operations.
Functionality, practicality, and durability were key considerations in the design and material choices of the Melodia Musik headquarters. The interlocking zig-zag arrangement on the facade serves a practical purpose by reducing direct sunlight exposure, which is particularly important for the sensitive audio products displayed in the retail area. The 2mm thin aluminum panels, folded on the edge for added stiffness, create a strong and rigid structural system for the facade. Additionally, the anodized and PE coating of the panels allows for dynamic color changes throughout the day as the sunlight interacts with the surface, giving the building a vibrant and ephemeral feel.
Inside the headquarters, the interior design showcases a series of soft edges and curves, complemented by contrasting tones of blacks and whites. Natural elements, such as white-oak wood and textured concrete walls, add warmth and robustness to the space. The ambience is fluid, open, and neutral, placing the spotlight on the products and displays in the store.
Melodia Musik's headquarters is a testament to the company's dedication to technology, sound, and art. The thoughtful design of the facade and interior spaces creates an immersive environment that tells the story of the company and embodies its vision and values. With its striking aesthetic and functional features, this architectural masterpiece stands as a true representation of Melodia Musik's identity.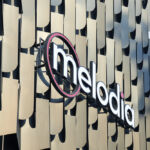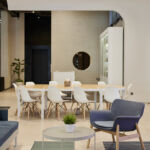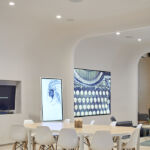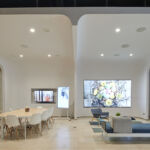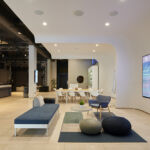 Project's associated companies