Il Sapore: A Bespoke Luxury Retreat in Sichuan, China
Il Sapore: A Bespoke Design that Delights the Senses
Il Sapore is a luxury retreat located in the Sichuan prefecture of China, nestled within the breathtaking Sichuan landscape. This unique project combines Tuscan luxury with the wild beauty of Sichuan, creating the ultimate sanctuary for contemporary living. It is the perfect weekend getaway for those who seek the finest things in life.
Entrance: A Warm and Inviting Welcome
The entrance of Il Sapore uses a neat and simple design, with wooden walls and furniture that create a warm and calm feeling for visitors. The natural sunlight that penetrates through two full-height windows provides a spacious feeling and offers a breathtaking landscape view from the ground.
Living Room: Elegance and Contrast
As you turn left from the entrance, the living room extends the elegant atmosphere with bright interiors and dark furniture. The simple outlines with wood texture enhance the visualization and contrast. Wooden racks display the artistic collection, while B&O domestic audio equipment adds a sense of stylish living to the space.
Gathering Zone: A Luxurious Retreat
The underground gathering zone is accessed through a greenery zone that immerses with the interiors to inject an energetic atmosphere. The zone uses a bright design with natural sunlight penetration, and leather furniture of different colors and materials highlights the design details of the luxurious villa.
Wine Cellar and Cigar Museum: A High-End Space
The wall and bar table of the whole wine cellar and cigar museum use marbles of different patterns. The high-end and modern space uses light marble floor with a wooden transparent wine cellar. The garage is in the basement for visitors to park, display, or fix their cars with a rotating rack on the ground. A glass door separates the gaming room, wine cellar, and cigar museum, so visitors can enjoy the nice cars and other entertainment.
Il Sapore is a true masterpiece of design, combining the best of both East and West in a luxurious, comfortable, and unforgettable retreat. From the elegant living room to the underground gathering zone, from the wine cellar to the cigar museum, Il Sapore is a bespoke design that delights the senses and offers the ultimate in contemporary living.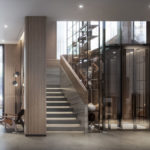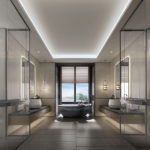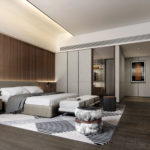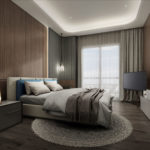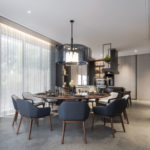 Project's associated companies