Modern and Sustainable Law School Building in Baltimore
Baltimore, MD, USA
The University of Baltimore has called for the construction of a new law school building that will provide a modern and functional space for their law program. This initiative aims to bring the entire UB law community together under one roof for the first time in decades. Located in a prominent area, the university required a significant building that would serve as a gateway into the city. The Angelos Law Library, which is an award-winning structure, is considered a major architectural landmark in central Baltimore and is the sixth-largest public law school in the country.
To ensure that the new building meets energy efficiency standards, achieving a LEED Platinum Certification was a crucial goal. The unitized curtain wall and building enclosure system played a critical role in the energy emphasis of the building. The project followed a "Design Assist" approach, starting from the architectural concept and utilizing custom dies and designs for the unitized curtain wall system. WS, the Wheaton Sprague Building Envelope architectural studio, provided a detailed technical description of the three volume facades.
The successful completion of this project required a high level of collaboration among various parties involved, including the university, the general contractor Whiting Turner, the glazing subcontractor NEC, the design/engineering firm WS, vendors, and the architect. The project utilized a Design Assist contract format, allowing for the finalization of the design to move towards a "hard bid," all handled by the same glazing subcontractor, along with the engineering/delegated design firm WS.
The project features an aluminum unitized curtain wall with custom dies and anchors, thermally improved mullions, high-performance glass, glass "rainscreen" elements attached with custom glass brackets, automated exterior venetian blinds, automated operable vents, exterior brise soleil sunshades, and signage all integrated into the façade. WS, in collaboration with NEC, provided comprehensive system design, engineering, proposal and profile drawings, die drawings, structural engineering calculations for aluminum framing, anchors, glass, rainscreen glass, custom glass brackets, thermal design and analysis, thermal reports, and field fix engineering support.
In summary, the University of Baltimore's new law school building project, led by the Wheaton Sprague Building Envelope architectural studio, aims to provide a contemporary and functional home for their law program. The project involves the construction of a significant building that will serve as a gateway into the city. With the Angelos Law Library already recognized as a major architectural landmark, this project is expected to further enhance the university's reputation.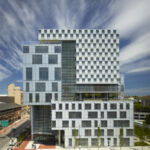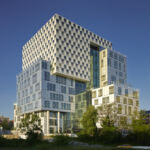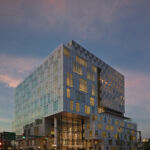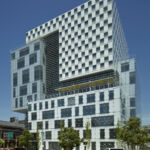 Project's associated companies