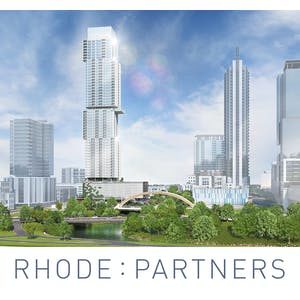 Designer - Interiors
Austin, TX, USA
About the Job
Job opportunity: Interior Designer at Rhode Partners
Rhode Partners, a cutting-edge design firm situated in downtown Austin, is currently seeking a dynamic and driven interior designer to join their team. This exciting position involves working on a diverse range of projects, including hotels, offices, and residential buildings. The ideal candidate will possess a refined design sensibility, exceptional visualization and communication skills, and thrive in a collaborative and flexible work environment.
Responsibilities:
As an integral part of a project team, the interior designer will be responsible for various aspects of design development, including conducting precedent research and creating compelling graphics. It is crucial for the designer to deeply comprehend the project's overarching design philosophy and seamlessly integrate their assigned tasks within that framework. Duties may encompass collaborating with the team to craft imaginative designs, selecting exquisite finishes, coordinating intricate details, constructing captivating storyboards, procuring samples, attending project meetings, conducting material studies, and executing specific design elements under guidance.
Experience:
The ideal candidate should possess a minimum of five years of professional experience in graphic design. While familiarity with high-rise/mixed-use/office and hotel developments is desirable, it is not mandatory. Proficiency in CAD/BIM and Adobe Creative Suite software is essential.
Benefits:
At Rhode Partners, we offer a comprehensive benefits package, including a 401(k) plan with a non-matching contribution of 5%, a premium PPO health plan with coverage, a health club membership for maintaining your well-being, a parking/transportation stipend for convenience, and an impressive total of 32 paid vacation and holiday days per year.
To apply:
If you are interested in this exciting opportunity, please submit a cover letter, resume, and portfolio in PDF format to the Operations Manager. We look forward to reviewing your application and discovering the unique talents and perspectives you can bring to our team.
Nice to have some experience with these types of Projects
Apartment
Art Installations
Civic
Commercial
Consulateembassy
Corporate
Government
Government Health
Grocery Stores
Landscape planning
Multi unit housing
Playground
Private house
Residential
Student housing
Nice to have these Skills
3D
3DS Max
ArchiCad
AutoCAD
CAD
Cinema 4D
Salary
Salary to be Discussed with a Successful Candidate
Our Benefits
Health insurance
Paid time off
401(k)