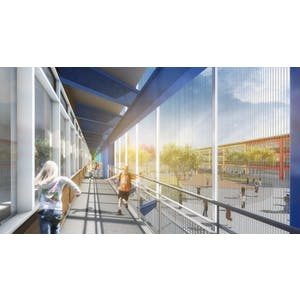 ARE Architecture: Sustainable, Human-Centered Design
Architecture Studio
About the company
ARE Architecture: A Human Touch in Design
Architecture has always been a field that requires creativity and innovation. However, with the advent of technology, many firms have turned to artificial intelligence to streamline their design process. ARE Architecture, on the other hand, believes in the importance of the human touch in design.
Designing Spaces for People
At ARE Architecture, the focus is on designing spaces that are functional and aesthetically pleasing for people. The team understands that every project is unique, and they work closely with their clients to ensure that their vision is brought to life. They believe that the best designs are those that are tailored to the needs of the people who will be using the space.
Collaboration and Communication
One of the key aspects of ARE Architecture's approach is collaboration. The team works closely with their clients, as well as other professionals involved in the project, such as engineers and contractors. This ensures that everyone is on the same page and that the project runs smoothly from start to finish.
In addition to collaboration, communication is also a top priority for ARE Architecture. They understand that clear communication is essential for a successful project, and they make sure to keep their clients informed every step of the way.
Sustainability and Innovation
ARE Architecture is committed to creating sustainable designs that have a positive impact on the environment. They believe that it is their responsibility as architects to consider the long-term effects of their designs on the planet. They also strive to incorporate innovative solutions into their designs, such as renewable energy sources and green technologies.
Attention to Detail
At ARE Architecture, every detail is carefully considered. From the materials used to the placement of windows and doors, every aspect of the design is thoughtfully planned out. This attention to detail ensures that the final product is not only beautiful but also functional and efficient.
Conclusion
In a world where technology is becoming increasingly prevalent in the design industry, ARE Architecture stands out for their commitment to the human touch. By prioritizing collaboration, communication, sustainability, innovation, and attention to detail, they create designs that are not only visually stunning but also functional and tailored to the needs of their clients.
We have good experience with
Art Installations
Civic
Educational
Entertainment
Fast Food
Grocery Stores
Health Care
Hospitality
Landscaping
Motel
Restaurant
Retail
Trade Center
Urban Planning
Our Skills
3D
3DCrafter
Antimony
AutoCAD
AutoCAD 3D
Autodesk Fusion 360
Autodesk Maya
BlocksCAD
BricsCAD
CAD
Chief Architect
CMS IntelliCAD
K-3D
Poser
Rhinoceros 3D
SketchUp
Tekla Structures
TinkerCAD
TurboCAD
We can help you with
Architecture
Automation
BIM Modelling
Decoration and Finish
Engineering
Exteriors Design
Fire Alarm
Furniture Design
General
Kitchen technology
Landscape
Lighting Design
Plumbing
Project Management
Sculpture
Structural